DYSON –  Debalys Dyson
SIRE: Can CH Kimlan's Fortune Five Hundred AOM
DAM:  BPIS Can GCH Debalys Once Upon A Time DOM
DOB:  June 22 2013    CKC # SW120462  AKC # WS47395701
Dyson lives with my good friends Linda and Les Hause, where she was a surprise birthday present for Linda's husband Les.  She has charmed her way into everyone's heart quickly wrapping the Hause house all around her little paws.  She is a smart little girl, quickly training her humans to meet her needs.  She currently has 6 AM CH points with limited showing, including a 3 point major, and will continue to be shown in conformation when she grows a new coat, and in the mean time is training for Rally and Obedience. Dyson LOVES being a California Girl!  Her Canadian littermates are Kirby, 3D and Roomba.
EBONY – Debalys Ebony and Ivory

SIRE: Can Ch Debalys Once In A Blue Moon CGN RN CD
DAM: Can CH Debalys Jaguar
DOB: March 21 2012     CKC # ZE455862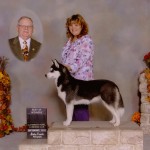 Ebony is a striking black & white, brown eyed girl and the product of a close line breeding. She is a substantial girl, with a ton of coat and sweetest nature getting along well with all the dogs in my yard and wherever she goes. She earned two points by going Best of Winners at the first show in the fall of 2012, her second weekend out she won first place in Puppy Sweepstakes in a class of seventeen. Ebony earned Best Brace in Show with her half brother Titan in November 2013 in Red Deer, Alberta and currently sits on 7 points. Ebony has retired to live in town with my good friends Gail and Roy and her Grandfather Ice-Man, where she is their constant companion. I am blessed to continue to have Ebony in my life
JAGGY  – Can CH Debalys Jaguar
Sire: Can Ch Debalys Summer Ice
Dam: Can Ch Debalys Hava Java DOM
DOB: September 10 2005 CKC # RS042398
Health Clearances: CHIC # 91474 / OFA SHOR  S-11610/12-84ONCI / OFA HIPS  SH-16532E28F-PI
Jaggy was a joy to show in conformation, and achieved her CKC Championship at 22 months of age in three weekends being shown. She blessed us with 8 puppies at Debalys. Princess Jaguar has retired to live with her human Megan and her nephew Zero in town as a couch princess, and I continue to be a part of her life.
LACEY  – Can CH Debalys Chantilly Lace
SIRE: Can Ch Debalys Summer Ice
DAM: Can Ch Debalys Hava Java DOM
DOB: September 11 2004 CKC #: PN959588
Health Clearances : Eyes Clear / OFA HIPS – SH-16012G24F-PI
Lacey started her CKC Championship taking a Group 4 placement defeating 3 male specials and finished her CKC Championship with a Group 3 placement defeating another male special.  Lacey blessed us with 13 puppies at Debalys, including MBPIS Debalys Alan Jackson. She is living out her retirement in Victoria enjoying the beach life.