Debalys Registered Siberians has bred over thirty Conformation Canadian Champions and two American Champion, as well as too many performance titles to list. Over the years, Debalys has lost some of our dearest family members. Their legacy is what inspires us for the future.
Ch. Debalys Limbo How Lo Can U Go
Limbo was the first champion we bred. He was shown to his championship by a novice, and finished in three weekends. He was returned to us at two years old when life changes happened for his owner. Limbo lived out his life with us here at Debalys until he was taken from us at eleven from kidney failure. He is the sire of Ch. Debalys El Nino.
Tiara – Debalys Dancing Sky Mural
Tiara was a first generation Debalys Siberian, and never finished her championship due to an injury. She had 7 points towards her championship. She had 2 litters at Debalys. I kept three female puppies from the two litters and completed championships on two of them. Tiara suffered a stroke on Mother's Day just shy of her 14th birthday.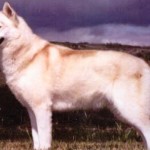 Ch. Debalys Red Badge of Cinnomi
Badge was sold as a puppy to Laurie Holz and her Cinommi kennel in Saskatchewan, and returned to me in 1999. I subsequently sold him to Hong Kong.  Sadly I lost contact with this special Red boy.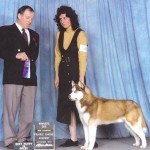 Ch. Debalys Regal Reba McEntire
Reba was my daughter Bridgit's heart and soul dog, and was shown to her championship almost exclusively by her. She blessed us with one special litter of 5 at Debalys, including winners dog at the 1999 SHCC National Specialty CH Debalys El Nino. Reba went to join Bridgit in the big city after her graduation, but came home for her final resting place here at Debalys.
Carlee was a product of an OOPS litter between brother and sister and was never bred. She rests eternal with us at Debalys.
Nik was my first heart dog, and I loved him to distraction for being my constant companion and shoulder to cry on after losing my Dad in June 1999. His second weekend being shown he won winners dog from the junior puppy class for 4 points at the 1999 Siberian Husky Club of Canada National Specialty, under breed specialist Alice Watt. That afternoon he won best of winners for a 5 point win. He finished his championship later that month after my Dad's funeral, and went on to win multiple puppy group and group placements. NIK was diagnosed with testicular cancer at 8 years of age and was neutered. He lived to be an old man of 13+ with me here at Debalys.
Java Bean was not a fan of the show ring, but she excelled in harness and the whelping box earing the title of DOM (Dam Of Merit). She blessed us with three wonderful litters and has a total of six champions, five with excellent hips and one with good, as well as a son in the US who is pointed in conformation, with too many performance titles to list, who also has excellent hips. We laid Java to rest  at 13+ here at Debalys.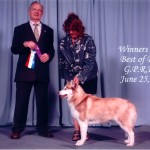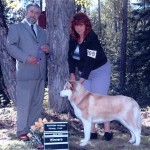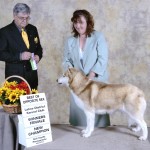 Ch. Debalys Summer Ice
Ch. Debalys First Summer Daze
Summer was my daughter Bridgit's second Siberian, and she was owner handled by her throughout her championship. We never bred Summer.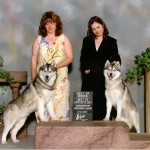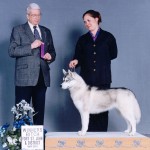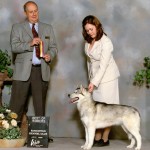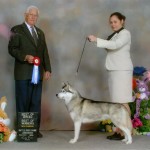 Ch. Debalys Chantilly Lace
Ch. Debalys Oscar de la Rente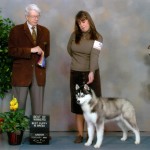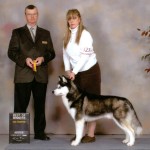 Ch. Debalys Jaguar
Ch. Debalys Mercedes Benz
Mini Mercy was Mike's heart dog, and she was always happiest with him. She HATED inside shows, but we persevered and the judges were able to find her flawless movement in the rings, she was awarded her championship at four years of age, at which point I promised her we would not ever play that silly game again. Mercy was an amazing lead dog, and is the dog that motivated me to train for Rally. We were almost ready to go into the "other" ring when she developed diabetes. Sadly we lost her to complications to this disease at only 8 years of age. Far too young. Mike and I miss her terribly on a daily basis and are thankful she blessed us with two specials litters at Debalys including UNO and Fairytale.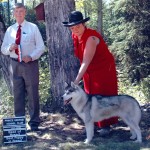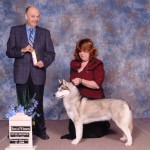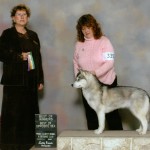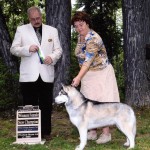 Ch. Debalys Kodi Bentley
Ch. Debalys Good N Evil
Ch. Debalys Sugar N Spice
Sugar Bean earned nine points towards her championship and a Best puppy in group her first weekend shown as a junior puppy and finished her championship the next month. She blessed up with 2 special litters at Debalys, which included our Sparkle, and unfortunately came to a tragic end before her time.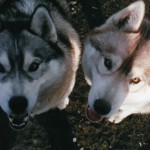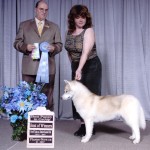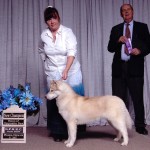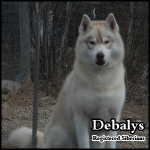 Ch. Debalys Quiksilver
Ch. Debalys Tesla Roadster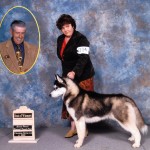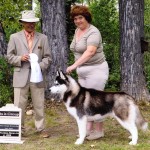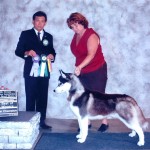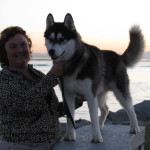 Ch. Debalys Ferrari Testarossa
Can Gr Ch Debalys Once Upon A Time CGN CD RA
Can Gr Ch Debalys Once In A Blue Moon
Can Gr Ch Debalys Dark Side of the Moon
Can Gr Ch Debalys Kirby
Am. Ch. Debalys Summer Holiday
Ch Debalys Dirt Devil
SPARKLE – Debalys Sparkler

SIRE: Can CH Debalys Tesla Roadster
DAM: Can CH Debalys Sugar N Spice
DOB: May 24 2010   CKC # XJ361693
Health Clearances:  CHIC # 92504   /  OFA SHOR S-11598/12-27  /    OFA HIPS SH-18022E27F-PI
Sparkle, a sixth generation Debalys breeding is a sweet, loving, light red and white female with amber eyes and was born during a 3 day power outage due to heavy snowfall on the May long weekend. She entered the show ring in July 2011 and had a terrible fright when she slipped her lead and took off across an open field, being pursued and caught by a mob of people. Due to this experience she no longer trusts many people and does not enjoy the show dog experience. She has a single point and will not be shown again. Sparkle meets the breed standard, has clear eyes and excellent hips, and I feel she is worthy to be bred. Sparkle excels running in team position on my sled and cart and also excels in the whelping box being the dam of the 2015 SHCC National specialty winner out of her one litter at Debalys.
ICE-MAN  Can CH Debalys Summer Ice
SIRE:  Can Ch Debalys El Nino
DAM:  Can Ch Debalys Sarabe's Annie Oakley
DOB:  September 11 2004     CKC # ML817633
Ice-Man finished his CKC Championship winning multiple puppy group placements and a Group 4. He sired two litters, including 5 Canadian conformation champions at Debalys before he retired at age 7. Ice lives in town with some very good friends Gail and Roy, where I get to see him often.
Debalys has also shown one import Siberian Husky to her Championship.
The one who started it all –  Ali – Ch. Jophil's Alysheba O'Scimitara
Holly – Am. Ch. Debalys Summer Holiday