TITAN – BPIS BISS Can GrCH Debalys Dark Side Of The Moon
SIRE: Can CH Debalys Once In A Blue Moon CGN RI CD
DAM: Debalys Sparkler
DOB: January 16, 2013  CKC# AA495788
Health Clearances:  Eyes Clear / OFA HIPS SH-18984E24M-VPI
Titan is a sixth generation Debalys breeding on his sire's side and a seventh generation Debalys breeding on his dam's side, and is co-owned by me and lives with his co-owners Roxanne and Jean Guy in Ontario. He achieved his Can. Championship undefeated from the male classes, (occasionally shown by good friend Doc Coulas) as a senior puppy winning puppy group placements and a Best Puppy in Show in Kamloops, BC as a junior puppy with an entry of over 100 puppies. He won Best Brace in Show with his half sister Ebony in November, 2013. Titan made an appearance at two shows in May 2014 in the hopes of earning some GrCH points and was awarded a Group 2 and a Group 4 placement. I entered Titan in a six show weekend one year later in Ontario, and I was thrilled to have Titan win the Siberian Husky Club of Canada National Specialty in May 2015 handled by Justin Young.  In addition to his BISS win, he also had Group 1 and Group 3 placements and earned the remaining points for his Grand Championship.
Titan has been retired from breeding as of 2018.
3D – UKC CH  Can CH Debalys Dirt Devil WD
SIRE: Can CH Kimlan's Fortune Five Hundred AOM
DAM: BPIS Can CH Debalys Once Upon A Time
DOB: June 22, 2013  CKC # AL519877
Health Clearances:  Eyes Clear /  Hips OFA – Good
3D is six generations of Debalys breeding, is co-owned by Deb Langlois and myself and lives with Deb and her husband Bert in Ontario, in an active conformation and multi performance home. He is a striking black and white boy with dark brown eyes, who reminds me of the old style dogs from Innisfree and Monadnock kennels.  3D earned his UKC Championship with multi group placements and completed his CKC Championship the first weekend in July 2015 at just over 2 years of age. 3D is a littermate to Kirby, Dyson and Roomba.
3D is now neutered and living with Deb.
MAX – CH Debalys Prince Charming
SIRE: BPIS Can/Am/CH Ch Wolvereen Won Ina Blumoon
DAM: BPIS Can Ch Debalys Once Upon A Time
DOB: January 5 2016 CKC # DA634203
Health Clearances: SHOR: S-11995/18-28 OCNI
Maxi was shown in the Junior puppy class, by his novice co owner to his first four points towards his Championship. I am so proud of Angela and Maxi!
Max had his second show weekend with Angela in Burns Lake, BC the first weekend in May where he earned another 4 points going Winners Dog and Best Of Opposite Sex twice,  defeating a male special.
Max completed his requirements for his Canadian Championship his third weekend being shown in Fort St John, BC on the long weekend in May earning his last two points by winning two Winner Dog awards.
Congratulations Angela and Can Ch Debalys Prince Charming.
Max is now neutered and living with Angela.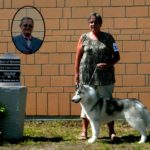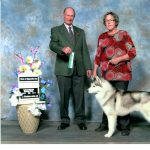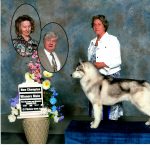 PORTER – CH Debalys A Port In The Storm
SIRE: BPIS/BISS Can GrCh Debalys Dark Side Of The Moon
DAM: Can GrCh Debalys Kirby
DOB: October 14 2016 CKC# DU674308
Health Clearances:
EYES: SHOR: S-11990/18-19
OFA Health Clearances: HIPS: SH-21015E44M-PI ELBOWS: Normal
CHIC: 150028
Porter made his ring debut in April 2017 at six months old where he won his first 4 points, undefeated in the male classes, including Winner Dog at the BC Siberian Husky Regional Specialty.
Porter's second weekend shown at 6 1/2 months saw him winning 2 more points for 2 Winners Dog awards, as well as three best puppy in Breed awards.
Porter Finished his championship winning Best Of Winners twice for five points taking him to 11 points. I moved him up to the championship class where he earned 4 Grand Championship points defeating two male specials.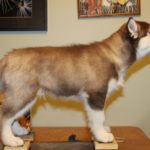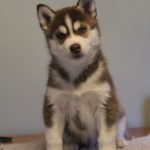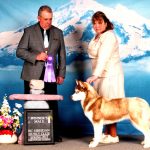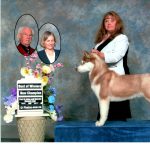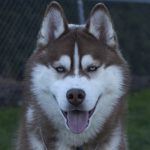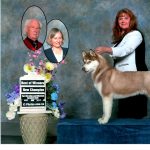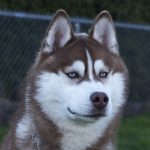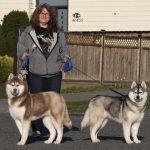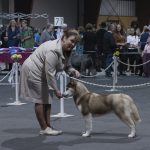 CAPER – RBIS CAN GRCHB Debalys Christmas Caper
SIRE: AM CH CAN GR CH Kuvuk's Collective Soul
DAM: CAN GR CH Debalys Kirby                                                                                                                    DOB: December 2 2017  CKC# EY732723
Health Clearances:
Eyes Clear SHOR S-12100/18-12
OFA Health Clearances: HIPS: SH-21020G30M-PI  – ELBOWS: Normal
CHIC: 150033
Caper was my pick male puppy from the Christmas litter, and lives with and is dearly loved by his co owner Janice Anderson and her family.
Caper made his ring debut where he was awarded Best Male Baby Puppy in Breed at the Regional Specialty in Chilliwack in April 2018. He entered the ring again in May at the Fort St John Kennel Club where he won 3/6 Best male Baby Puppy and 1/6 Best Baby Puppy in Breed.
Caper made his ring debut into the points ring at NACA in Edmonton where he won BEST OF BREED at 6 months and 1 day old over an entry of 8 Siberians, he also made the cut in the Group ring of 18 breeds. This boy has an exciting future ahead of him! Hold on for the ride Janice!
Caper finished his Championship at 7 1/2 months of age at the EKKOC show in Trochu in July 2018, where he also won Best Puppy in Sweepstakes – So proud of his boy.
Caper completed his Grand Championship April 2019 in Red Deer with a Group 4 Placement.  In May 2019 Caper won a Group 2 placement at the Lakes and District show in Burns Lake, and later that month Caper won RESERVE BEST IN SHOW at the Fort St John and District Kennel Club. In June he continued his winning ways winning a Group 4 placement in Grande Prairie, a lovely group 2 placement at the Lakeland Kennel Club dog show in Cold Lake Alberta. September saw Caper in Lloydminster Sask, where he won another lovely Group 2 placement, followed by a Group 3 placement in Red Deer Alberta in October. Caper won a  finished as the # 4 Siberian Husky in Canada.  I am so proud of this HANDSOME boy!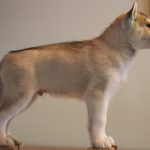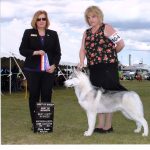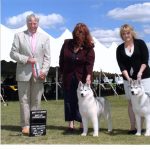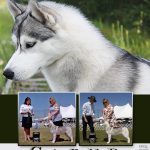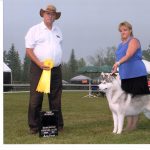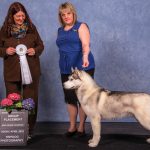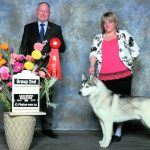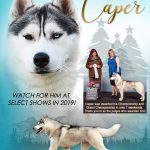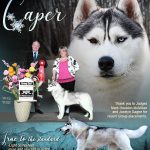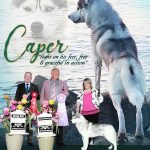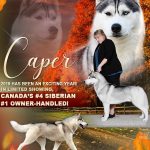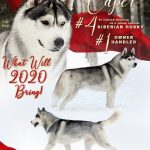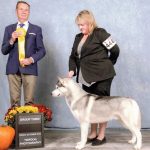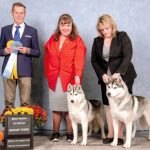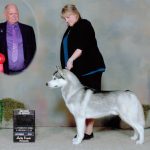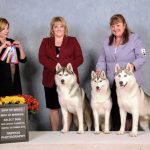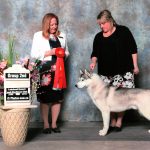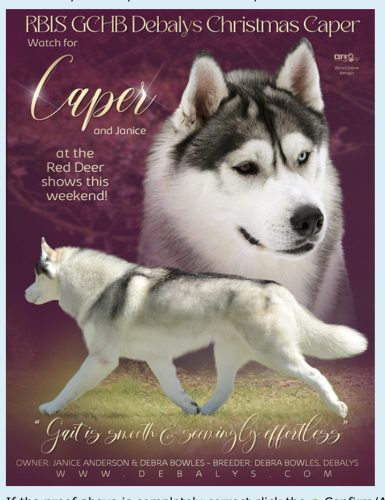 KICKER – Can GRCHB Debalys Kick Start My Heart
Sire: AM/CAN GR CH Pn CH Wolvereen's Starlight Starbright
Dam: RBIS Can GR CH Debalys Foolproof
DOB – October 2 2018
Eyes Clear May 2019
OFA: Hips SH-21163E24M-VPI  Elbow: Normal
Kicker is my pick male puppy from my HEART litter, names in honor of my husband Mike who was recovering from a triple bypass when these puppies were born.
Kicker entered the ring for the first time at 6 months old in Red Deer Alberta and won his first 4 points winning Best of Winners two out of three times.  His second weekend out was in early May at the Lakes District Kennel Club in Burns Lake, where he completed his Canadian Championship easily from the junior puppy class, won 2 Best Puppy in Group placements and earned 1 point towards his Grand Championship. Later in the month I took him to the Fort St John show for one day and Kicker won Select Male for 3 more Grand points.  In  mid June, still as a junior puppy although entered in the Championship class, we went to the Grande Prairie Alberta show where Kicker won 4 out of 6 Best Of Breed wins, 2 out of 6 Select Dog wins, 5 out of 6 Best Puppy In Group wins and a lovely Group 2 placement. The Following weekend found us in Cold Lake Alberta where Kicker once again dominated the working puppy group winning 5 out of 6 Puppy group placements, 1 Best of Opposite, and 4 out of 6 Select dog placements. Kicker continues to win in the puppy group ring winning his 13th Best Puppy in Group placement in July 2019 in Prince George. Kicker had 34 points towards his Grand Championship before 10 months of age.  This boy is KICKING the competition to the curb!
Kicker took a short break from the show ring through the summer and came out for one more puppy show in Lloydminster Saskatchewan, before he turned a year old to try once more for a Best Puppy in Show as he has AMASSED 13 Best Puppy In Group ribbons. No BPIS but he won a lovely group 3 placement.
The weekend after he turned 1 we ventured to Red Deer Alberta where he completed his Grand Championship and he finished the year as number 16 Siberian in Canada.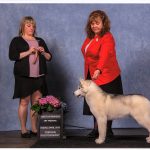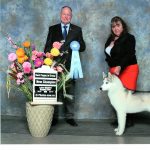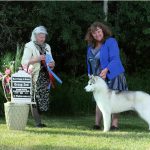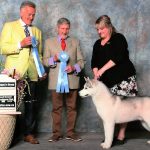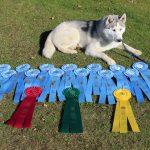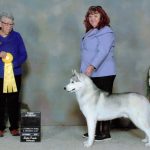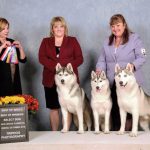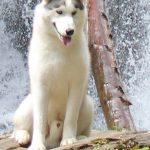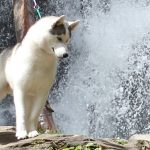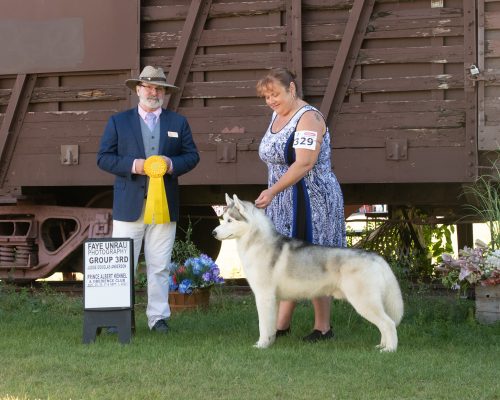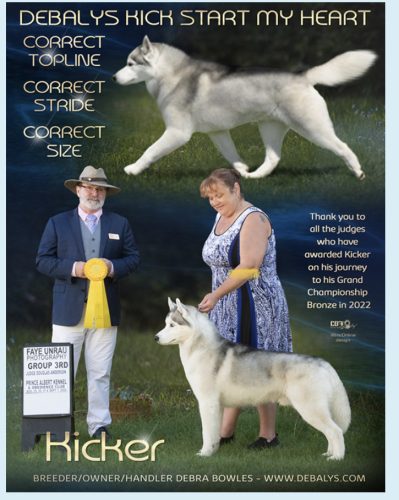 KAYCE – Can GCH Debalys Doesn't Do Fear
Sire: Can GCHB Debalys Kick Start My Heart
OFA Hips – Excellent – Elbows – Normal – Eyes Clear
Dam: Can GCH Debalys Sultana Jasmine
OFA Hips Excellent – Eyes Clear