KIRBY – Can Gr CH Debalys Kirby
SIRE:  Can CH Kimlan's Fortune Five Hundred AOM
DAM:  BPIS Can CH Debalys Once Upon A Time
DOB:  June 22 2013  CKC # AL519880
Health Clearances:   CHIC#: 109025   OFA SHOR S-11756/17/46 /  OFA HIPS SH-18993E24F-VPI
Kirby is sixth generation of Debalys breeding on her dam's side, and was my pick puppy from the vacuum cleaner themed litter. She was born to be a show girl, and loves to strut her stuff and show off.  She is showing great promise as a working girl in harness, running in team and tandem lead with either her uncle UNO or dam Fairytale. She finished her Canadian Championship with ease, winning several Best of Breed placements and a Group 2 placement under Judge Walter Pinsker. Her first time out as a Special she earned 10 Grand Championship points with two Select Bitch and two Best of Breed placements and the icing on the cake was two Group 1 placements under Robert and Elaine Whitney, defeating BIS and RBIS Siberians. I love this little firecracker!  Kirby passed her OFA Hip clearance with a rating of Excellent.  *update* Kirby finished her Grand Championship in 9 straight shows, earning points in each show, 8 of them while totally OUT OF COAT, 12 weeks after whelping 6 puppies. (2-2-3-3-2-2-2-2-2)
Kirby's first litter at Debalys she was bred to Can GCh Debalys Once In A Blue Moon CGN CD RA (UNO) and produced 6 pups, 5 girls and 1 boy. One of these girls, Quita has been shown and is a Can Ch and on her way to her Grand Championship. (Ch Debalys Foolproof). The lone male, Joker has been shown in limited shows and has 2 points.
Kirby's second litter was out of BPIS BISS Can GCh Debalys Dark Side of the Moon (Titan). The Storm litter consisted of 2 grey girls and 4 boys, Silver, Grey, Copper and Light brown. Her copper son, Porter completed his Canadian Championship at 7 months of age, and has 4 Grand Championship points.
Kirby's third litter was out of Am Ch Can BPISS Gr Ch Kuvuk's Collective Soul (Ace). The Christmas litter blessed us with 3 female and 3 males, all shades of grey.
Kirby is spayed and enjoys retirement, occasionally running on the cart.
JASMINE – CAN GR CH DEBALYS SULTANA JASMINE AOM
SIRE: BPIS Can/Am/CH Ch Wolvereen Won Ina Blumoon
DAM: BPIS Can Ch Debalys Once Upon A Time
DOB: January 5 2016   CKC # DA634207
Health Clearances: CHIC # 132695  SHOR: S-11991/18-28 – OFA: SH-20139E28F-VPI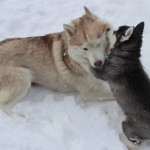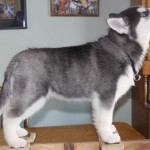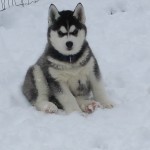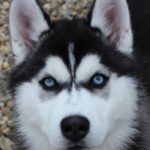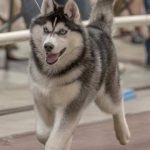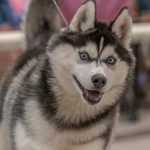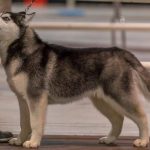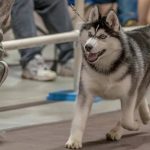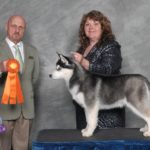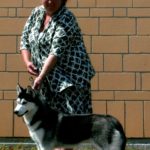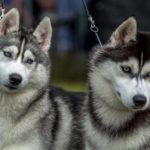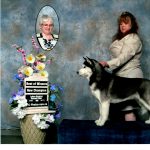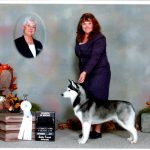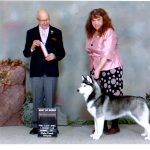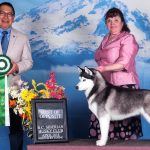 Jasmine is my pick puppy out of my Disney Royalty litter. I adore this stunning black and white blue eyed beauty. Her first weekend in the ring show won a Best Baby Puppy in group under Tom Alexander who remarked on the outstanding front assemblies on my line of dogs. In Jasmine's first points show she earned 6 points towards her Championship including a Best of Breed win over her dam, Fairytale. Jasmine finished her Championship in style, going Winners Bitch/Best of Winners and Best of Opposite Sex with a 3 point major the first weekend on May 2017. She also picked up 6 Grand Championship points the next day winning Best of Breed both shows!
In September Jasmine made her ring debut as a Special and earned 6 Grand Championship points going Best of Breed twice and Select Female once. She finished her Grand Championship points in November 2017.
In April 2018 Jasmine was entered at the All Siberian weekend in Chilliwack where she won Best of Opposite Sex at the Regional Specialty and Select Bitch at the National Specialty making her an AOM title holder.
In June 2018 Jasmine had her eyes cleared for the second time and her hips rated by OFA where she scored EXCELLENT.
In October and November Jasmine Completed her Grand Championship title winning a lovely Group 4 placement under Lynda Saranchuk.
In January 2019 Jasmine was bred to Caper and they blessed us with our Spring Litter on March 27 2019.
In February 2020 Jasmine was bred to Am Ch Wild Blue Yonder of the Midnight Sun and blessed us with 3 boys and 1 girl. The TIME litter.
NIQUITA – RBIS CAN GR CH DEBALYS FOOLPROOF
SIRE: CAN GR CH DEBALYS ONCE IN A BLUE MOON CGN CD RA
DAM: CAN GR CH DEBALYS KIRBY
DOB: April 2 2016 – CKC# DG464731
Health Clearances – CHIC: 134667 SHOR: S-11993/18-26  OFA: Excellent SH-20143E26F-VPI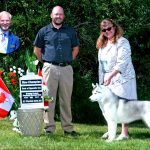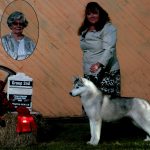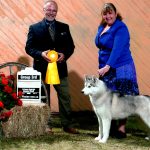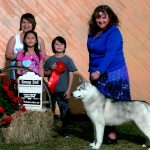 Quita was my pick puppy from this linebred litter, and lives with an RCMP officer and his family and is co owned by myself. I took her to 2 shows in early May after a week of training, and kept her for the remainder of the month for serious show training and she came out with a bang at the end of May earning her first 8 points in one weekend, including 3 Best of Winners. Quita went to her third show in Grande Prairie at the end of June to finish her Championship winning both Winners bitch classes, and moved to Specials for the second day of the show where she earned her first 2 grand championship points with her co owner Trevor who had never shown a dog before. I took Quita to the Prince George show in July and she won 4 out of 6 Best of Breed placements and a Best of Opposite as well as 2 group 2 placements and a group 3 placement, taking her to #17 Siberian in Canada. So Proud of this girl!
Quita came out to play at the Fort St John show in May 2018 and finished her requirements for Canadian Grand Champion, as well as picking up a group 4 placement, a Group 1 placement and a RESERVE BEST IN SHOW!!!!
Quita had her eyes cleared by a Canine Ophthalmologist in Prince George in June 2018 and had her hips x rayed for her OFA evaluation, where they were graded Excellent.
Quita was bred to Can Gr Ch, Am Gr Ch, Phil Ch Wolvereen's Starlight Starbright in the summer of 2018 and blessed us with 7 healthy puppies on October 2, all shades of gray!
Quita has been retired and spayed at the request of her co owner Trevor and is living her best life with him and his family.
KAOS – DEBALYS PERFECT STORM
SIRE: BPIS/BISS CAN GR CH DEBALYS DARK SIDE OF THE MOON
DAM: CAN GR CH DEBALYS KIRBY
DOB: October 14 2016 – CKC# DU674304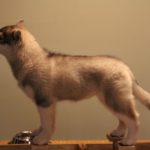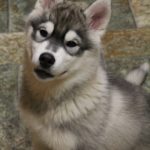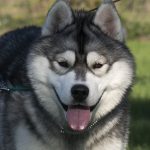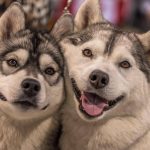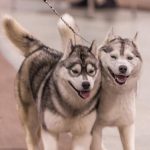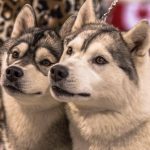 KAOS certainly has been my "Perfect Storm". Sadly she did not pass her eye exams, so she has been spayed, and will live her life with us as my husband Mike's baby girl.
TINSEL – CAN GR CH DEBALYS MISTLETOE KISSES                                                                                SIRE: AM CH CAN GR CH KUVUK'S COLLECTIVE SOUL                                                                            DAM: CAN GR CH DEBALYS KIRBY                                                                                                              DOB December 2 2017  CKC # EY732726
Health Clearances: CHIC: 150034 EYES: Clear – S-12101 OFA: Hips Excellent SH-21021E30F-PI Elbows: Normal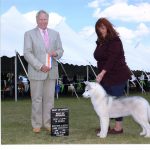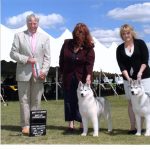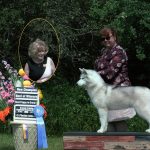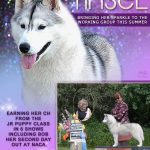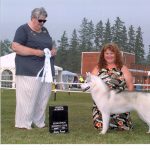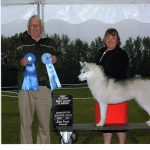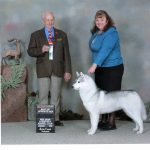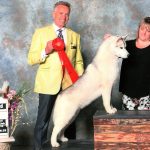 Tinsel is my pick puppy out of the Christmas Litter, I am totally in love with this little spitfire!
Tinsel made her ring debut in the Baby Puppy Ring at the Siberian Specialties in April in Chilliwack where she won Best Female Baby Puppy at the National Specialty from a class of 3.
Tinsel was entered as a Baby Puppy at the Fort St John Kennel club in May 2018 where she won 3/6 Best Baby Puppy in Breed, followed by 3/6 Best Baby Puppy in Group and to top it all off she won BEST BABY PUPPY IN SHOW!!
Tinsel entered the points ring in June at the NACA show in Edmonton where she won BEST OF BREED over an entry of 6 Siberians for her first 2 points!
Tinsel finished her championship June 24 2018 at the age of 6 months and 3 weeks old, winning 10 points her second weekend out, and a Puppy Group win was icing on the cake!
Tinsel finished her Grand Championship at the age of 1 year and 6 days old in Red Deer, with 22 points.
Tinsel came out to play at the show in Cold Lake Alberta where she won a lovely Group 2 placement with her Aunty Jay!
Tinsel has had two litters here at Debalys, The first with Can Ch UKC Ch Deablys Dirt Devil WD where they produced 2 pups one male and one female. The second litter was with Can GCH Debalys Kick Start My Heart where they produced TEN pups, 6 boys and 4 girls!
ENVY – DEBALYS EAT YOUR HEART OUT
SIRE: AM/CAN GR CH PN CH WOLVEREEN'S STARLIGHT STARBRIGHT
DAM: RBIS CAN GR CH DEBALYS FOOLPROOF
DOB OCTOBER 2 2018 – CKC# FU777255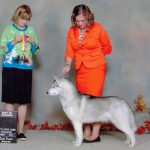 Envy earned her first 3 point major in Camrose Alberta in October 2019 at one year of age, expertly handled by my daughter Bridgit.
In the summer of 2020 I decided to place Envy with a loving family in Prince George and she is living the good life as Ella's constant companion and best friend.
RUMOR – MBBPIG  CAN GCH DEBALYS SPRING FLING
SIRE: RBIS CAN GR CH DEBALYS CHRISTMAS CAPER
DAM: CAN GR CH DEBALYS SULTANA JASMINE AOM
DOB: MARCH 27 2019  CKC # GE800549
Health Clearances: CHIC 159745 EYES Clear S-12189/20-19OCNI HIPS: Excellent SH-21460E26F-VPI ELBOWS Normal SH-EL1075F26-VPI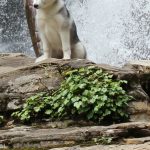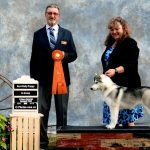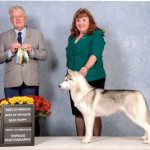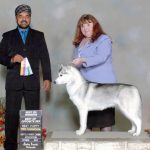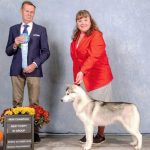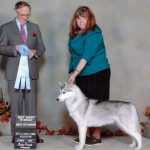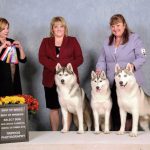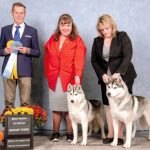 Rumor made her debut in July 2019 in Prince George BC as a baby puppy where she won 2 Best Baby Puppy in Group ribbons.
Her first outing in the classes came in September in Lloydminster Sask, where she earned her first point winning Best of Opposite Sex over a female Champion at 6 months old.
In October I took Rumor to Red Deer Alberta where she won all three Best Puppy in Breed, one Best puppy in Group and 9 more points towards her Championship to gain enough points for her Canadian Championship. I decided to leave her in the 'classes' for the next weekend's shows in Camrose Alberta, where she won Best of Winners and Best of Opposite for a 4 point win and ended the weekend beating her Sire for Best of Breed and her final Best Puppy in Group win.
Rumor finished 2019 in 35th place for Siberians in only 3 weekends shown in the Junior Puppy Class.
Rumor is my second 8TH Generation Champion. I am so incredibly proud of my breeding program!
With the onset of COVID in March 2020, shows practically ground to a halt but I got out where and when shows were available, even if it meant driving 12 hours one way. I am so very pleased to say that Rumor completed the requirements fror her GRAND CHAMPIONSHIP earning pojnts in every single show she was entered in!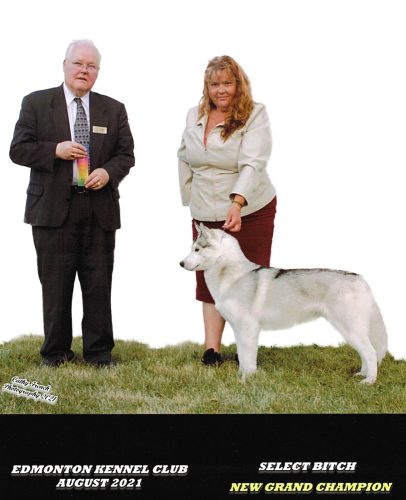 LILBETH – Can GRAND CHAMPION DEBALYS I AM THE TORNADO
SIRE: CAN GR CH BRONZE DEBALYS KICK START MY HEART                                                         DAM: CAN GR CH DEBALYS SULTANA JASMINE AOM                                                                       DOB: March 8 2021. CKC JE4064433
Lilbeth was the LONE girl in the YELLOWSTONE litter (She has 5 brothers) and my keeper puppy. Lilbeth made her ring debut at the NACA show in Edmonton in September 2021 and earned her first 2 points.  A week later she earned 4 points at the CKOC show in Olds Alberta. One week later Lilbeth earned another 3 points in Camrose Alberta at the BRKA show and she finished her Championship with a BEST OF BREED win in Lethbridge Alberta beating a female special, expertly handled to many of her wins by my daughter Bridgit.
In 2022 I decided to take Lilbeth out to try to obatin her Grand Championship and this little Tornado did NOT disappoint me. In just 4/6 shows entered at the GPRKC show in Grande Prairie Alberta Lilbeth won a Best of Opposite Sex, Select Bitch, and 2 Best of Breed wins, plus a group 2 and a Group 3 placement for 13 points in 2 days! SO PROUD of this young little girl!!!
My dog show sisters talked me into entering the AKC Summer Classic in Calgary so I entered Lilbeth, and my daughter Bridgit showed her to 3 Best of Opposite Sex, 2 Select Bitch and 2 BEST OF BREED wins for an additional 11 points towards her Grand Championship, so in just TWO short weekends Lilbeth became Can GRAND CHAMPION Debalys I Am The Tornado (with 3 points towards her Bronze title.
I have a super exciting litter planned for Lilbeth in 2023 after she passes her health clearances.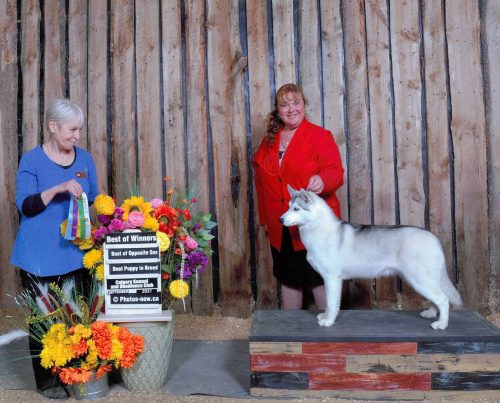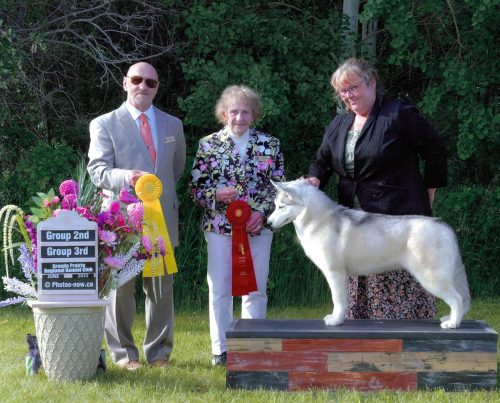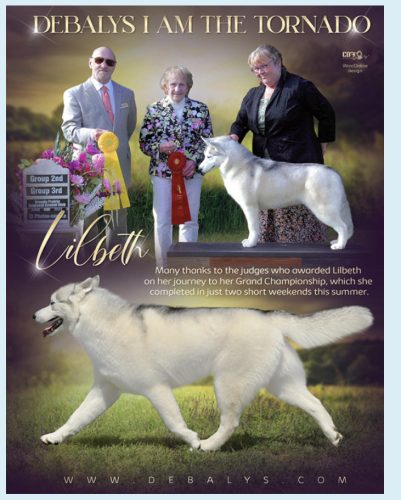 CURTSY – DEBALYS CURTAIN CALL
SIRE: RBIS CAN GR CH BRONZE DEBALYS CHRISTMAS CAPER
DAM: CAN GR CH DEBALYS SULTANA JASMINE AOM                                                                         DOB APRIL 6 2022 – CKC # KG4167570                                                                                               Health Clearances: Too young