FAIRYTALE – BPIS Can CH Debalys Once Upon a Time    
SIRE: Can CH Shakula's Bravo Zulu
DAM: Can CH Debalys Mercedes Benz
DOB: August 27 2010   CKC # XQ380534
Health Clearances:  CHIC # 91478   /  OFA SHOR  S-11597/12-23  /   OFA HIPS  SH-18021E24F-PI
Fairytale is fifth generation Debalys breeding on her Dam's side, and was the sole female puppy in the litter. She was born via an emergency Cesarean section and was blue and unresponsive. We worked diligently to bring her back to life, hence the name Fairytale, as it is a real Cinderella story. With a dark grey dam and a black and white sire I was a little surprised to get this little redhead, who is our only daughter of our beloved Mercy.  Fairy picked up her first points as a junior puppy at the  Burns Lake, BC shows in early May 2011, followed up by Best Puppy in Show at the end of the month.   One year later, after growing a new coat, Fairy finished her championship by going Best of Breed.
Fairy was bred in 2013 to  Can CH Kimlan's Fortune Five Hundred AOM and gave us a lovely litter of 6 (the "vacuum cleaner" litter which includes Ch Kirby, Dyson, Ch 3D and Roomba).
Fairy was bred a second time to Can/Am Ch Wolvereen's Won Ina Blumoon and produced 6 lovely pups, who are the Disney Royalty litter, Ch Cinder, Ch Jasmine, Ch Max, Rufio, Jasper and Nala.
Fairy was bred a final time to Can GCh Kamchatka Da Gospel Truth and produced three boys, who were named after the Chipmunks. She has now been spayed and will stay with us as a valued member of our family.
She excels as a lead dog on the cart and sled and is a pleasure to live with. Fairy is a littermate to UNO.

KIRBY – Can Gr CH Debalys Kirby
SIRE:  Can CH Kimlan's Fortune Five Hundred AOM
DAM:  BPIS Can CH Debalys Once Upon A Time
DOB:  June 22 2013  CKC # AL519880
Health Clearances:   CHIC#: 109025   OFA SHOR S-11756/17/46 /  OFA HIPS SH-18993E24F-VPI
Kirby is sixth generation of Debalys breeding on her dam's side, and was my pick puppy from the vacuum cleaner themed litter. She was born to be a show girl, and loves to strut her stuff and show off.  She is showing great promise as a working girl in harness, running in team and tandem lead with either her uncle UNO or dam Fairytale. She finished her Canadian Championship with ease, winning several Best of Breed placements and a Group 2 placement under Judge Walter Pinsker. Her first time out as a Special she earned 10 Grand Championship points with two Select Bitch and two Best of Breed placements and the icing on the cake was two Group 1 placements under Robert and Elaine Whitney, defeating BIS and RBIS Siberians. I love this little firecracker!  Kirby passed her OFA Hip clearance with a rating of Excellent.  *update* Kirby finished her Grand Championship in 9 straight shows, earning points in each show, 8 of them while totally OUT OF COAT, 12 weeks after whelping 6 puppies. (2-2-3-3-2-2-2-2-2)
Kirby's first litter at Debalys she was bred to Can GCh Debalys Once In A Blue Moon CGN CD RA (UNO) and produced 6 pups, 5 girls and 1 boy. One of these girls, Quita has been shown and is a Can Ch and on her way to her Grand Championship. (Ch Debalys Foolproof). The lone male, Joker has been shown in limited shows and has 2 points.
Kirby's second litter was out of BPIS BISS Can GCh Debalys Dark Side of the Moon (Titan). The Storm litter consisted of 2 grey girls and 4 boys, Silver, Grey, Copper and Light brown. Her copper son, Porter completed his Canadian Championship at 7 months of age, and has 4 Grand Championship points.
Kirby's third litter was out of Am Ch Can BPISS Gr Ch Kuvuk's Collective Soul (Ace). The Christmas litter blessed us with 3 female and 3 males, all shades of grey.
JASMINE – Can GRCH Debalys Sultana Jasmine AOM
SIRE: BPIS Can/Am/CH Ch Wolvereen Won Ina Blumoon
DAM: BPIS Can Ch Debalys Once Upon A Time
DOB: January 5 2016   CKC # DA634207
Health Clearances: CHIC # 132695  SHOR: S-11991/18-28 – OFA: SH-20139E28F-VPI
Jasmine is my pick puppy out of my Disney Royalty litter. I adore this stunning black and white blue eyed beauty. Her first weekend in the ring show won a Best Baby Puppy in group under Tom Alexander who remarked on the outstanding front assemblies on my line of dogs. In Jasmine's first points show she earned 6 points towards her Championship including a Best of Breed win over her dam, Fairytale. Jasmine finished her Championship in style, going Winners Bitch/Best of Winners and Best of Opposite Sex with a 3 point major the first weekend on May 2017.
In September Jasmine made her ring debut as a Special and earned 6 Grand Championship points going Best of Breed twice and Select Female once. She finished her Grand Championship points in November 2017.
In April 2018 Jasmine was entered at the All Siberian weekend in Chilliwack where she won Best of Opposite Sex at the Regional Specialty and Select Bitch at the National Specialty making her an AOM title holder.
In June 2018 Jasmine had her eyes cleared for the second time and her hips rated by OFA where she scored EXCELLENT.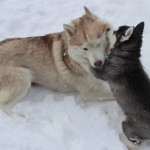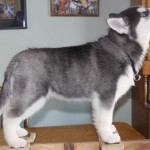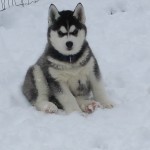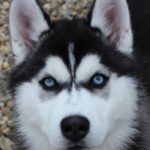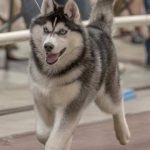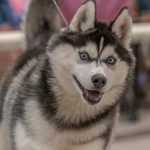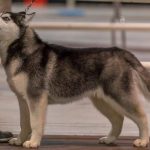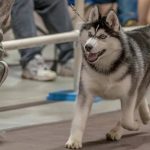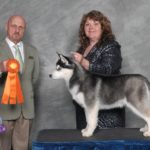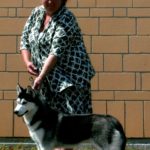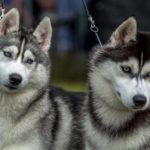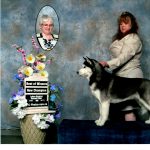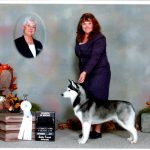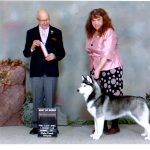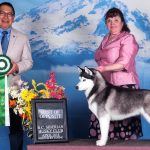 CINDER – MBPIG Can CH Debalys Princess Cinderella
SIRE: BPIS Can/Am/CH Ch Wolvereen Won Ina Blumoon
DAM: BPIS Can Ch Debalys Once Upon A Time
DOB: January 5 2016  CKC # DA634202
Health Clearances: CHIC # 132696  SHOR: S-11992/18-28 OCNI – OFA: SH-20140G28F-VPI
Cinder showed potential as an outstanding show puppy from an early age, she totally rocked the stacking blocks at 6 weeks old, so was sold on a co ownership, with me allowed to show her, in the hopes of breeding her when she passes all her clearances. Her first weekend shown she earned 6 points towards her championship, in full standing heat, and she did not miss a beat. Very proud of this confident little girl.  **UPDATE** Cinder finished her championship in two weekends of showing, I am a very proud breeder.
In June 2018 Cinder made the trip with me to Prince George to have her eyes tested for the second time by the Canine Ophthalmologist where she cleared again, and to have her his x rayed for her OFA evaluation. Cinder scored GOOD on her hip rating from OFA.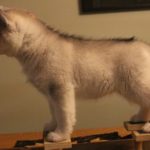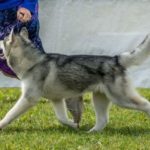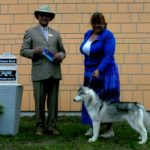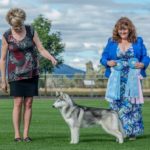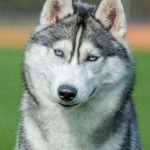 NIQUITA – RBIS Can GRCH DEBALY FOOLPROOF
SIRE: Can Gr Ch Debalys Once In A Blue Moon CGN CD RA
DAM: Can Gr Ch Debalys Kirby
DOB: April 2 2016 – CKC# DG464731
Health Clearances – SHOR: S-11993/18-26  OFA: SH-20143E26F-VPI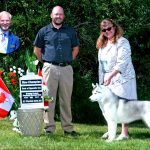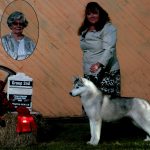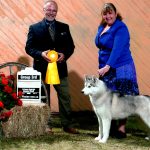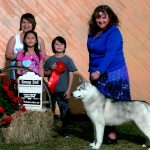 Quita was my pick puppy from this linebred litter, and lives with an RCMP officer and his family and is co owned by myself. I took her to 2 shows in early May after a week of training, and kept her for the remainder of the month for serious show training and she came out with a bang at the end of May earning her first 8 points in one weekend, including 3 Best of Winners. Quita went to her third show in Grande Prairie at the end of June to finish her Championship winning both Winners bitch classes, and moved to Specials for the second day of the show where she earned her first 2 grand championship points with her co owner Trevor who had never shown a dog before. I took Quita to the Prince George show in July and she won 4 out of 6 Best of Breed placements and a Best of Opposite as well as 2 group 2 placements and a group 3 placement, taking her to #17 Siberian in Canada. So Proud of this girl!
Quita came out to play at the Fort St John show in May 2018 and finished her requirements for Canadian Grand Champion, as well as picking up a group 4 placement, a Group 1 placement and a RESERVE BEST IN SHOW!!!!
Quita had her eyes cleared by a Canine Ophthalmologist in Prince George in June 2018 and had her hips x rayed for her OFA evaluation, where they were graded Excellent.
Quita wll be bred to Can Gr Ch, Am Gr Ch, Phil Ch Wolvereen's Starlight Starbright in the summer of 2018.
KAOS – DEBALYS PERFECT STORM
SIRE: BPIS/BISS Can GrCh Debalys Dark Side Of The Moon
DAM: Can GrCh Debalys Kirby
DOB: October 14 2016 – CKC# DU674304
KAOS certainly has been my "Perfect Storm". Sadly she did not pass her eye exams, so she has been spayed, and will live her life with us as my husband Mike's baby girl.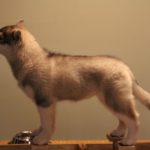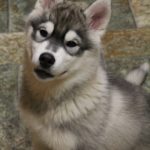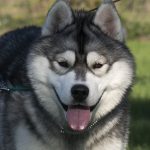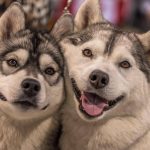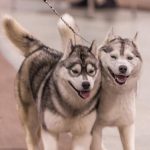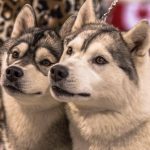 GALA – WOLVEREEN N DEBALYS GALAXY
Sire: Am/Can/Phil Ch Wolvereen's Starlight Starbright
Dam: Am/Can Ch Wolvereen's Ill Win Da Lottery
Cindy Foggitt of Wolvereen Kennels has blessed me with this special little puppy. Gala made her debut at the Vernon and District Kennel Club in July as a Baby Puppy and although a crowd favorite, the judges found it hard to properly evaluate her as she often had NO feet on the ground. At the end of July she entered the ring again as a Baby Puppy and scored a Hat Trick winning all THREE Baby puppy in breed (defeating two other Siberian pups) and Best baby Puppy in Group! Gala is so much fun to show!  In August Gala placed Best Baby Puppy in Working group 2 out of 3 shows with very strong competition at the AKC Classic show.
Gala made her debut for her first points show in Lloydminster Sk the last weekend of September and earned 2 points towards her Championship. She finished out the year with 8 points towards her Championship.
Gala has returned to live with her Breeder Cindy.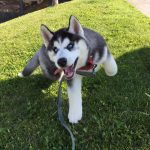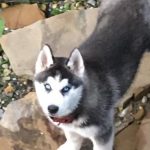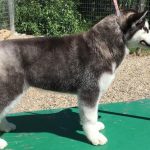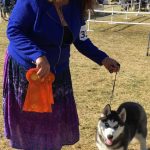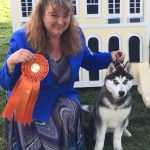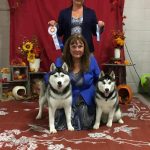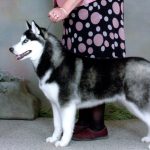 TINSEL – CH DEBALYS MISTLETOE KISSES                                                                                                       SIRE: AM CH CAN GR CH KUVUK'S COLLECTIVE SOUL                                                                             DAM: CAN GR CH DEBALYS KIRBY                                                                                                               DOB December 2 2017  CKC # EY732726
Tinsel is my pick puppy out of the Christmas Litter, I am totally in love with this little spitfire!
Tinsel made her ring debut in the Baby Puppy Ring at the Siberian Specialties in April in Chilliwack where she won Best Female Baby Puppy at the National Specialty from a class of 3.
Tinsel was entered as a Baby Puppy at the Fort St John Kennel club in May 2018 where she won 3/6 Best Baby Puppy in Breed, followed by 3/6 Best Baby Puppy in Group and to top it all off she won BEST BABY PUPPY IN SHOW!!
Tinsel entered the points ring in June at the NACA show in Edmonton where she won BEST OF BREED over an entry of 6 Siberians for her first 2 points!
Tinsel finished her championship June 24 2018 at the age of 6 months and 3 weeks old, winning 10 points her second weekend out, and a Puppy Group win was icing on the cake!
Tinsel finished her Grand Championship at the age of 1 year and 6 days old in Red Deer, with 22 points.