FAIRYTALE – BPIS Can CH Debalys Once Upon a Time    
SIRE: Can CH Shakula's Bravo Zulu
DAM: Can CH Debalys Mercedes Benz
DOB: August 27 2010   CKC # XQ380534
Health Clearances:  CHIC # 91478   /  OFA SHOR  S-11597/12-23  /   OFA HIPS  SH-18021E24F-PI
Fairytale is fifth generation Debalys breeding on her Dam's side, and was the sole female puppy in the litter. She was born via an emergency Cesarean section and was blue and unresponsive. We worked diligently to bring her back to life, hence the name Fairytale, as it is a real Cinderella story. With a dark grey dam and a black and white sire I was a little surprised to get this little redhead, who is our only daughter of our beloved Mercy.  Fairy picked up her first points as a junior puppy at the  Burns Lake, BC shows in early May 2011, followed up by Best Puppy in Show at the end of the month.   One year later, after growing a new coat, Fairy finished her championship by going Best of Breed.
Fairy was bred in 2013 to  Can CH Kimlan's Fortune Five Hundred AOM and gave us a lovely litter of 6 (the "vacuum cleaner" litter which includes Ch Kirby, Dyson, Ch 3D and Roomba).
Fairy was bred a second time in 2015 to Can/Am Ch Wolvereen's Won Ina Blumoon and produced 6 lovely pups, who are the Disney Royalty litter, Ch Cinder, Ch Jasmine, Ch Max, Rufio, Jasper and Nala.
Fairy was bred a final time in 2017 to Can GCh Kamchatka Da Gospel Truth and produced three boys, who were named after the Chipmunks. She has now been spayed and will stay with us as a valued member of our family.
She excels as a lead dog on the cart and sled and is a pleasure to live with. Fairy is a littermate to UNO.
We sadly lost Fairytale to gestation diabetes in February 2018. I miss my redhead every day!
UNO – Can CH Gr CH Debalys Once in a Blue Moon CGN RN PCD CD RI RA
SIRE: Can CH Shakula's Bravo Zulu
DAM: Can CH Debalys Mercedes Benz
DOB:  August 27 2010 CKC # XQ380536
Health Clearances:  CHIC# 91479 /  OFA SHOR S-11600/17-80 OCNI /  OFA HIPS SH-18023E24M-PI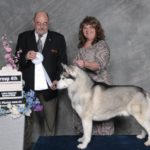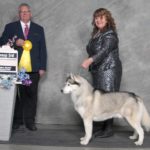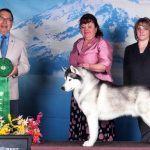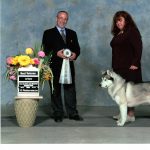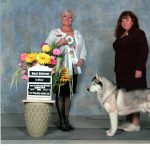 UNO, my heart dog, is from a breeding that was in the plans for many years before it came to fruition. I met his sire when I ventured to Winnipeg to breed one of my girls to his uncle and fell in love with this gorgeous black and white bi-eyed male, who moves effortlessly and is a large substantial male from the "Of the Midnight Sun" lines. UNO is a fifth generation Debalys breeding on his Dam's side, and is a 'once in a blue moon' kind of dog.  He is grey and white with blue-blue/brown parti eyes. He completed his championship in June 2012 going Best of Winners and two days later took Best of Breed over a multiple BIS dog.  This boy never lets me down, and has excelled at every challenge I have set for him, including visiting senior centers, Conformation, Rally, Obedience, earning all his performance titles in three straight trials.  In addition, outside of the show ring,  he is lead dog on my sled and cart.  UNO is the sire of the 2015 SHCC National Specialty winner,  Titan.  UNO is the gentlest of gentleman, even tempered with human and canine alike, and passes these traits to his offspring. UNO is a littermate to Fairytale. UNO is 22.5 inches tall and weighs 56 pounds.
My heart was broken December 21 2018 when I had to help Uno to cross the rainbow bridge. He had inoperable cancer. I MISS this boy every day.
GALA – WOLVEREEN N DEBALYS GALAXY
Sire: Am/Can/Phil Ch Wolvereen's Starlight Starbright
Dam: Am/Can Ch Wolvereen's Ill Win Da Lottery
Cindy Foggitt of Wolvereen Kennels has blessed me with this special little puppy. Gala made her debut at the Vernon and District Kennel Club in July as a Baby Puppy and although a crowd favorite, the judges found it hard to properly evaluate her as she often had NO feet on the ground. At the end of July she entered the ring again as a Baby Puppy and scored a Hat Trick winning all THREE Baby puppy in breed (defeating two other Siberian pups) and Best baby Puppy in Group! Gala is so much fun to show!  In August Gala placed Best Baby Puppy in Working group 2 out of 3 shows with very strong competition at the AKC Classic show.
Gala made her debut for her first points show in Lloydminster Sk the last weekend of September and earned 2 points towards her Championship. She finished out the year with 8 points towards her Championship.
Gala has returned to live with her Breeder Cindy.
Sadly Gala died from a perforation to her intestines from a chicken bone that someone through over the fence at Cindy's place 🙁
QUIK – Can CH Debalys Quicksilver
SIRE: Can CH Highlander's Thunderstruck
DAM:  Can CH Debalys Hava Java DOM
DOB:  November 10 2006   CKC # SW120474
Health Clearances:   CHIC# 91475 /  OFA SHOR S-11599/12-70 / OFA HIPS SH-16862E26M-PI
Quicksilver is from a third generation Debalys breeding on his Dam's side outcrossed to Can CH. Highlander's Thunderstruck, a litter brother of Multi BISS Highlander's Go for Broke. He is a lovely silver and white male with blue eyes and has an excellent temperament. He had a slow start in the conformation ring but finished quickly, taking four out of five Winners Dogs to complete his championship with 12 points. Quik is 22 inches tall and weighs 58 pounds.
Quicksilver crossed the Rainbow Bridge in November 2019 at 13 years of age.
JAGGY  – Can CH Debalys Jaguar
Sire: Can Ch Debalys Summer Ice
Dam: Can Ch Debalys Hava Java DOM
DOB: September 10 2005 CKC # RS042398
Health Clearances: CHIC # 91474 / OFA SHOR  S-11610/12-84ONCI / OFA HIPS  SH-16532E28F-PI
Jaggy was a joy to show in conformation, and achieved her CKC Championship at 22 months of age in three weekends being shown. She blessed us with 8 puppies at Debalys. Princess Jaguar has retired to live with her human Megan and her nephew Zero in town as a couch princess, and I continue to be a part of her life.
Sadly Meg helped Jaggy cross the bridge in the fall of 2018 at 13 years of age.