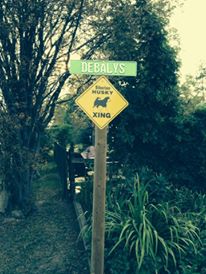 Debalys Registered Siberian Huskies was established in 1991, with the purchase of our foundation bitch, Canadian Champion Jophil's Alysheba O'Scimitara.  Debalys is  a small, family-oriented kennel located 45 km from Dawson Creek, British Columbia, Canada.   Our kennel name, Debalys, is derived from a combination of my name (Debra) and Alysheba,  the two bitches that started it all!
Sadly, Aly passed away in the summer of 1995.   Her legacy was to give us two beautiful litters and many years of that special 'masked bandit' companionship that only Siberians know how to give. She is still deeply missed here at Debalys.
Our dogs are very much a part of our lives and puppies are raised amidst the busy household activities.  All of our 'fur babies' are whelped in the house and gently handled daily to ensure a properly socialized and well adjusted young dog. We work on matching puppies with appropriate family situations, but be forewarned, Siberians are not the right dog for everyone. Although they are a beautiful and intelligent breed, they do have many drawbacks!  See About Siberians.
All breeding parents are screened for hereditary health defects including hip dysplasia and hereditary eye diseases. We provide life-time support to all of our puppy purchasers and are happy to answer any questions that may come up and help in any way we can.  We always have time to talk dogs!
All puppies are veterinarian checked, vaccinated, dewormed and tattooed for individual identification and registration with the Canadian Kennel Club before they leave our home and kennel.
We enjoy working with our dogs in different capacities, including working them in harness on our recreational dogsled team, in the conformation ring, rally and obedience and enjoying the obstacles and excitement that the sport of agility has to offer in our backyard course.
If you're interested in learning more about our dogs, you can contact Debra at queenbeeinc@xplornet.ca